Registered 100% Boer Goats
The goat project at Wagester Farm is a family affair. We strive to raise quality goats that are healthy and hardy enough for the first time goat owner. Our goats are meant for families starting out with 4-H or FFA projects, so that they can have a good experience with an animal project. Our does are built with proven National Champion genetics from Texas breeders that include Circle Star Boers, Lasy S-T Ranch, Blue Gainey Ranch, Powell Holman, and Farmers' Stock Exchange. We select for strong maternal instinct and productivity as well as good conformation. Those who purchase a goat from our farm can be assured that they are taking home a sound, quality animal.
ADVBG Dura Max (10595195) is our past herd sire who now resides with the Reymeyer Family in Pennsylvania. Dura Max is now ennobled!!! He has a perfect bite, full pigment, and a clean 1/1 teat structure (one single teat on each side). Dura Max has earned several blue ribbons in his ABGA classes, Division Championships, and was named Overall Grand Champion at the Jack Frost Classic ABGA Show on Day 1 at 9 months of age. He is a huge buck with lots of bone and puts size and style on his offspring.
C S B Rum Runner (10646338) is our two-year-old herd sire and was named Overall Grand Champion Buck at the September 2015 ABGA show in Syracuse, NY. When Circle Star Boers disbursed their herd, we couldn't let this guy get away. Rum Runner is a very powerful, wide buck with tremendous spring of rib and a beautiful topline. He has a perfect bite, full pigment, and a clean 1/1 teat structure (one single teat on each side), which is a requirement for our herd sires. He is the son of C S B The Whiskey Bandit. This guy was 90 pounds at 90 days, 160 pounds at 8 months of age, and pushes 350 pounds in show condition. He has been putting size, muscling, bone, and width on his kids and we are thrilled with the growth rates. On January 1, his 10 month old doe kids were 120 pounds, his 3 month old doe kid was 67 pounds, and his buck kids were 125-140 at 8 months.
For Sale (last updated 1/18/2017): We are out of bucks and does right now, but will be kidding again mid-February. Once we work through our waiting list, we will post for sale goats here. All kids will be sired by Rum Runner.
Please note: All our wethers go to 4-Hers for market projects or to a local maet locker. We do not offer goat meat or market goats directly to consumers.
We recently moved our farm to Colorado...
and had a great time at the National Western Stock Show ABGA Goat Show - January 11, 2017! We brought home 1st places in the 0-4 month and 3+ years fullblood does and a 6th and 7th in best pair of kids and best pair of females. One of our buck kids also placed 10th as a 9-month old in the 8-12 month buck class. Our website needs an update. For now, see Jennifer's facebook page for recent photos at: www.facebook.com/jennifer.wagester. We brought 17 goats with us to Colorado, including four spring 2016 Rum Runner doe kids: Magnolia (10710792), Blue Bonnet (10710793), Cara (10710795), and Caramel (10710796). Lil Miss Sunshine was our first Colorado kid born on September 30, 2016, by Lady Godiva.
Our next Rum Runner babies are due mid-February through early March out of SL Pine Tree Peaches (10535634), LFC Clarie (10535281), C S B 450 "Texas" (10646327), JGW Wagester's Hailey (10681289), SL Pine Tree April (10579324), SL Pine Tree Prissy (10651888), SL Pine Tree Izzy (10651901), and SL Pine Tree Isabell (10651902). JGW Wagester's Lemon Drop (10686309) was bred to JGW Wagester's Sloe Gin Fizz (10713016) for a late Feb. kidding. S G R Polar's Lady Godiva (10718966) will be bred to kid late June as she just weaned a beautiful doe kid. We're searching for a second herd sire for the Rum Runner kids and hope to bring one home from the National ABGA Show in June.
Please let us know if you are looking for breeding stock for your herd in advance so that we can keep you posted as goats become available. Prices start at $350/doe kid, $600/buck kid, $500/adult doe, and $800/adult buck and may run as high as $1200-$2400 for competitive ABGA show quality.
Some of our past and current does. More pictures will be posted once we overhaul the website.
C S B Wagester's Catch The Wind
Catch The Wind (10603558) is very long and feminine. She is sired by SSRA CSB Merlin (10578028), a son of Roger McSwain's buck, RM 745 "Hank" Ennobled (2011 National Grand Champion Senior Buck). Catch is ABGA show correct and a beautiful doe with a perfect topline and wide front end. Full Pedigree
C S B 450 "Texas"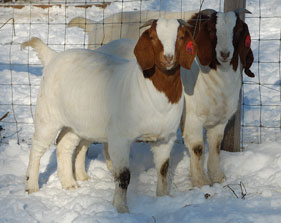 "Texas" (10646327,left) is next to her full sister "Daisy". She is a beautiful young doe out of AABG NBD Stardom and a Windy Acres Strategic Power daughter. She has a lovely, sculpted head with width and bone mass that set her apart. On March 5, 2016, she kidded three beautiful does sired by Rum Runner. Full Pedigree
LFC Clarie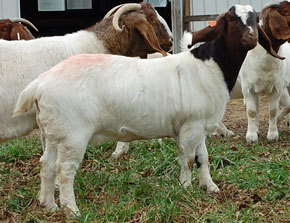 Clarie's (10535281) "old" foundation genetics give her a regal, powerful look that is hard to duplicate. She is the daugther of NAMA Blitz and adds genetic diversity to our breeding program. Clarie is also ABGA show correct and a fantastic dam. Full Pedigree
C S B Rum Runner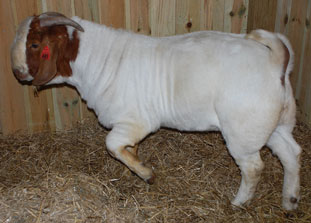 8 months old, about 165 pounds. Rum Runner (10646338) is a son of C S B The Whiskey Bandit, who placed third in his yearling class at nationals in 2014 and has earned over 100 show points. Whisky's sire is 2Dox Luger "Ennobled", the 2009 National Grand Champion Buck, and his dam is Circle Star Boers Sweet Pea "Ennobled", the 2010 National Reserve Champion Yearling Fullblood Doe.
C S B Rum Runner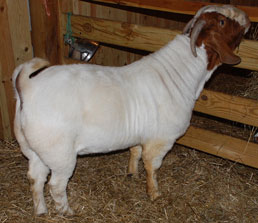 Rum Runner exhibits heavy bone mass and muscling while maintaining structural correctness (1/1 teat structure, perfect bite, full pigment, strong pasterns, etc.). His exceptional width is paired with tight, well-formed shoulders that will not break down as he ages. Runner's stride is smooth and powerful. We expect him to produce sound, correct kids with a huge frame.
C S B Rum Runner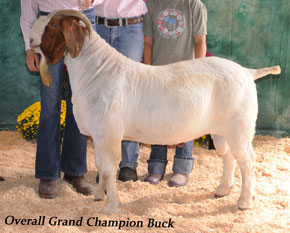 Rum Runner has an easy going temperment and was an ABGA Overall Grand Champion Buck at 19 months. He outsized everyone in his class and was considered just about perfect by the judges. Rum Runner's kids have his muscling, strong topline, and width and we cannot wait to show them!Full Pedigree
ADVBG Dura Max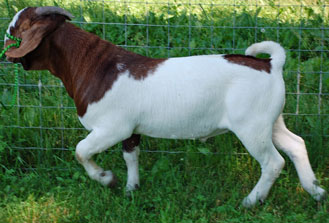 6 months old, 140 pounds. Dura Max (10595195) is a son of ZA Z01 Maximizer, who was the National Reserve Champion Fullblood Yearling Buck in 2011. His full sister, True Joy (owned by the Westfall family) set the showring on fire last year with numerous champion titles and his dam, ADVBG Hot-N-Sunny has earned 52 ABGA points.
ADVBG Dura Max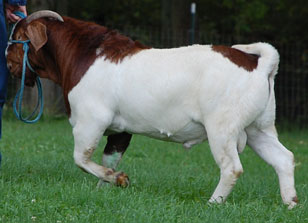 10 months old, 200 pounds. We love this buck kid for the structural correctness he displays (1/1 teat structure, perfect bite, full pigment, strong pasterns, etc.), his exceptional growth potential, and his gorgeous neck extension and breed characteristic head. Full Pedigree
ADVBG Dura Max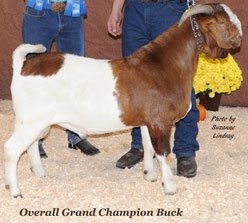 Dura Max is easy on the eyes with flashy paint coloring. He was by far the largest buck in the 9-12 month old buck kid class in the September ABGA shows in Syracuse, NY, and won Overall Grand Champion Buck on day one! For photos of Dura Max in the ring, see Jennifer's Facebook page at www.facebook.com/jennifer.wagester